AuroVist™ 15 nm:
Gold Blood Pool X-ray Contrast Agent
---
Updated: January 5, 2022
---

Amazing video of AuroVist™ 15 nm in action--
In vivo MicroCT of mouse
after AuroVist™ 15 nm injection
Note very high contrast in blood and heart,
with little accumulation in the liver.

AuroVist™
is a revolutionary tool in vascular imaging--
Get up to 3 times the contrast of iodine,
without the vascular damage!

Images from recent experiments,
right here at the Nanoprobes Labs.
---
Gold Nanoparticles:
a New X-Ray Contrast Agent
Highest contrast of any blood pool contrast agent
Longest blood residence time
of any contrast agent available

- 24 hours!
200 mg Au/mL injected into mouse gives 1800 HU in blood vessels
Low toxicity: LD50 >5.0 g Au/kg
Low osmolality, even at high concentrations
Low viscosity, similar to water; easy to inject, even into small vessels
Long imaging times and high contrast:


Ideal for imaging by microCT

Can be concentrated to 600 mg Au/mL for super contrast
Sized to use EPR- leaks out of bloodstream into angiogenic, cancerous tissue for theranostics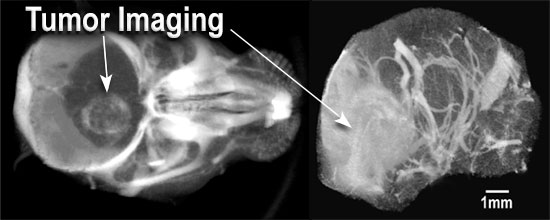 MicroCT of brain of live mouse after IV injection of AuroVist-15 nm.
Tumor stands out (white density) due to penetration of AuroVist-15 nm
through the compromised blood-brain-tumor barrier.
Right: Skull computationally removed revealing brain vasculature.
Dosage guidelines: How many mice per 40 mg vial?
10 mice per 40 mg vial has been reported to work well for general use by our customers.
2 mice per 40 mg vial yields very high contrast. Nebuloni et al. used this dose in their 2013 comparative study, finding an attenuation of 2.33/mm, much better than the other x-ray contrast agents at equivalent dose.
For super-resolution, use the entire 40 mg vial per mouse. This is the dose used in Hainfeld et al.'s 2013 paper. We don't see toxicity problems in our laboratory with even very high doses-- we have so far only been limited by the total volume that a mouse can take.
Remember that the blood half-life is 24 hours, so repeat imaging is possible even days after a single injection:

"Because of the slow clearance process of gold nanoparticles, an anatomical representation of blood vessels is still possible at 2 and 3 days after injection. This particular feature of AuroVist 15 nm might allow follow-up imaging without repeated injections or with lower doses of contrast material." (Nebuloni, 2013)
Price List:
AuroVist™


Gold X-ray Contrast Agent

Custom conjugation is also available, of Nanogold®, FluoroNanogold, undecagold or colloidal gold to primary antibodies, peptides, small molecules, or other molecules.
Need a smaller version?
See also: AuroVist 1.9 nm
Clears through kidneys
Biphasic clearance still allows ample time for long micro-CT scans

[ Learn more ]