Ongoing Research at Nanoprobes, Inc.
---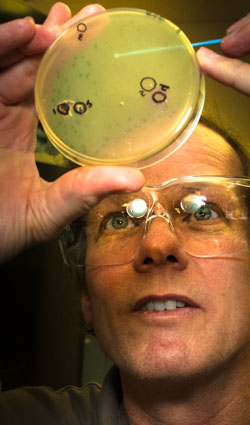 Dr. John Dubendorff
examines cells in culture at the Nanoprobes lab.
Nanoprobes is a nanoparticle research collaborative,
dedicated to finding cures for cancer and other diseases.
Our funding comes from research grants
and sales of nanoparticle products to the scientific community.

All profits support our research.
Curing cancer with magnetic nanoparticles:
How Nanoprobes scientists are using magnetic hyperthermia in the fight against cancer.
Magnetic nanoparticles created at Nanoprobes are being used to treat cancer with an 80%+ cure rate in mice, using hyperthermia (magnetic heating or heat therapy). Learn how it works from our chief research scientist Dr. James F Hainfeld and Hui Huang at our Nanoparticle Research Collaborative.
We're looking for funding partners as we prepare for clinical trials and FDA approval.
Let us know if you'd like to join us, as we move ahead with this very important project.
Other ongoing research projects:
We're winning against brain cancer with gold nanoparticle-enhanced radiation therapy.

As reported in our recent paper published in Nanomedicine, we've had excellent results in test animals, using gold nanoparticles to concentrate radiation in brain tumors.

Our infrared cancer phototherapy is curing tumors in mice.

Our results are about to published in PLOS One. Stay tuned to see these excellent results!

We've achieved nuclear access in tumors with gold nanoparticles.

With close proximity to genetic material from inside the nucleus, these radioabsorptive gold nanoparticles can create double-strand breaks in DNA when radiation is applied. We are currently testing this approach with cancer in mice.

The Cancer Shredder:

Inside tumor cells, long chains of magnetic nanoparticles, spinning like the blades of a blender!

Radiotherapy enhancement with iodine nanoparticles:

Delivering iodine nanoparticles to tumors, where they absorb and concentrate X-ray radiation for treatment.
Check out Nanoprobes News for the latest from the lab!