---

| | |
| --- | --- |
| | Contents: News Stories, 1996 |
---
October 7, 1996

Nanoprobes receives Phase I SBIR grant from NIGMS to Develop Polyhistidine-Targeting Probes The National Institute of General Medical Sciences (National Institutes of Health) has issued a Phase I SBIR grant to Nanoprobes, Incorporated (Stony Brook, NY) of $ 96,904 for six months. Entitled "Nickel-Chelating Polyhistidine-Specific Molecular Probes," the grant will support the synthesis and testing of new structural probes for light and electron microscopy which target oligo-histidine tagged fusion proteins. These probes are based on a novel metal chelate which tightly binds polyhistidine sequences, and confers two major advantages over immunoprobes: the probes are much smaller and hence better able to penetrate into cells and tissues to access sites of interest, and the development of specific antibodies is not required for targeting. The rapid development and wide use of protein engineering means that the expression of polyhistidine-tagged proteins is a relatively simple procedure for many laboratories, and the new labels should have wide applications in cell biology, light, fluorescence and electron microscopy, and also in assay systems where antibody-based detection is currently used.

The research will be performed by Dr. Richard D. Powell with Dr. Frederic R. Furuya, Carol M. R. Halsey and Dr. James F. Hainfeld. Prof. Christopher L. Woodcock of the Biology Department at the University of Massachusetts at Amherst will collaborate intesting the new probes. The grant also includes a subcontract to the State University of New York at Stony Brook, NY.

For more information, contact:


Richard D. Powell, Ph. D.
Research Director
Nanoprobes, Incorporated
25 East Loop Road, Suite 113
Stony Brook, NY 11790-3350

Telephone: (516) 444-8815
Fax: (516) 444-8816
E-mail nano@nanoprobes.com
WWW: www.nanoprobes.com
---
October 3, 1996

NIH awards Phase II SBIR grant to Nanoprobes, Incorporated The National Institute of General Medical Sciences (National Institutes of Health) has awarded a Phase II SBIR grant to Nanoprobes, Incorporated (Stony Brook, NY) of $ 695,098 for two years to develop caged metal cluster and colloid immunoprobes as alternatives to colloidal gold probes for use in microscopy and immunoassays. Gold and other heavy metal nanoparticles in the 3 to 20 nm size range will be prepared using a novel method in which the particle size and properties are chemically controlled and specific reactivity is synthetically incorporated to enable covalent cross-linking to proteins, antibodies, oligonucleotides, lipids and other targeted biomolecules. Metal nanoparticles will also be generated within specially engineered forms of a naturally-occurring hollow protein, and within synthetic molecular cages constructed around existing gold cluster complexes.

The new probe labels will be modified chemically to remove the problems of non-specific affinities (which can give false positive results) and probe dissociation (which can cause reduced sensitivities) associated with colloidal gold. Methods are planned for selective preparation and high-resolution separation of different sized particles. Preliminary results indicate that the new probes are significantly more sensitive than comparable colloidal gold probes, and higher sensitivities and reduced detection thresholds are anticipated in both microscopy and assays.

The attachment method of covalent cross-linking to the targeting agent will enable the preparation of new reagents with small biomolecules, such as synthetically engineered peptides, lipids and oligonucleotides, which cannot be effectively labeled using colloidal gold. These will generate new applications in electron microscopy and new ultrasensitive assay protocols. The research will be performed by Dr. Richard D. Powell with Dr. Frederic R. Furuya, Carol M. R. Halsey and Dr. James F. Hainfeld, in collaboration with Prof. Elizabeth C. Theil of North Carolina State University (Raleigh, NC), Dr. David L. Spector of Cold Spring Harbor Laboratory (Cold Spring Harbor, NY) and Dr. Peter M. Takvorian of Rutgers University. The grant also includes a subcontract to the State University of New York at Stony Brook, NY.

Nanoprobes, Incorporated, founded in November 1990, is a leader in immunogold technology. Principal products are the 1.4 nm Nanogold® and 0.8 nm undecagold cluster immunoprobes and gold cluster labeling reagents, gold-labeled lipids and sensitive DNA detection reagents which are used in light and electron microscopy, molecular biology and cellular studies. Others include a complete range of colloidal gold probes, and a line of silver enhancement and negative staining reagents. Previous SBIR grants have enabled the development of the unique FluoroNanogold line of combined fluorescent and gold cluster immunoprobes, and support several ongoing research projects to develop the chemical and biomedical applications of large metal cluster complexes and nanoparticles. The Company is a tenant of the Long Island High Technology Incubator at Stony Brook, New York.

For more information, contact:

Richard D. Powell, Ph. D.
Research Director
Nanoprobes, Incorporated
25 East Loop Road, Suite 113
Stony Brook, NY 11790-3350

Telephone: (516) 444-8815
Fax: (516) 444-8816
E-mail nano@nanoprobes.com
WWW: www.nanoprobes.com
---
August 20, 1996
New Ultrasensitive In Situ Hybridization Reagent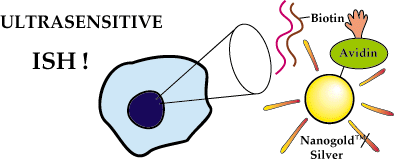 Nanoprobes, Inc. announces a novel reagent, Nanogold-Streptavidin (Nano-S®) that shows superior sensitivity over other detection methods. It ha excellent penetration, produces a brown-black color compatible with other cell stains, requires only a simple light microscope (not expensive fluorescent optics) and is easy to use. It is so sensitive, in situ PCR is not necessary; an advantage, since PCR requires more steps and can produce false positives. However, it is an excellent reagent to visualize in situ PCR results as well. Nano-S® uses a unique small gold cluster (Nanogold, 1. 4 nm) covalently coupled to streptavidin for maximum activity and stability. The gold is subsequently visualized by silver enhancement using a rapid, selective and permanent developer. Improved results from ISH runs are now possible with Nano-S®. Available immediately (Catalog #2016)

For more information, a special report on the use and applications of this reagent is available on our web site, and detailed instructions are also given for its use in DNA and RNA detection both with and without the "CARD" signal amplification system.

Nanogold®-Streptavidin: Instructions and Product Information

This reagent, when combined with the CARD (catalyzed reporter deposition) scheme, can give single-copy sensitivity. For a reference, see:

Hacker, G. W.; Zehbe, I.; Hainfeld, J.; Sällström, J.; Hauser-Kronberger, C.; Graf, A.-H.; Su, H.; Dietze, O., and Bagasra, O; High-Performance Nanogold® In Situ Hybridization and In Situ PCR. Cell Vision, 3, 209 (1996).

Contact:

Nanoprobes, Incorporated
25 East Loop Road, Suite 113
Stony Brook, NY 11790-3350

Tel.: (516) 444-8815
Fax: (516) 444-8815
E-mail nano@nanoprobes.com.
WWW: www.nanoprobes.com
---
August 20, 1996
Golden Lipids Lipids are used in the liposome industry as drug and gene carriers, in cosmetic preparations and in other applications. Some cellular and biomedical studies focus on cell membranes and lipoproteins. To assay these lipids, radiolabels have been used. Now, Nanoprobes, Inc. has developed small gold particles (1.4 nm in diameter) covalently linked to various lipids. These unique reagents can be used to visualize the lipid phase directly by electron and light microscopy. A silver enhancement process develops the gold so that it can be detected by eye with higher sensitivity than with radioactive or fluorescent probes. Therefore, more sensitive and higher resolution assays can be developed with these reagents. Currently Nanoprobes supplies dipalmitoyl-phosphatidyl ethanolamine (DPPE) - Nanogold®. Other lipids are available upon request.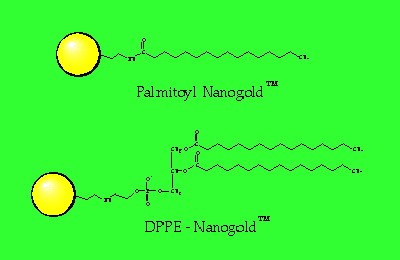 Contact:

Nanoprobes, Incorporated
25 East Loop Road, Suite 113
Stony Brook, NY 11790-3350

Tel.: (516) 444-8815
Fax: (516) 444-8815
E-mail nano@nanoprobes.com.
WWW: www.nanoprobes.com
---
May 23, 1996
Nanogold®-Peptide Probes Nanoprobes, Inc. announces successful synthesis of active peptide-Nanogold® conjugates, and now provides reagents for investigators to make any peptide-Nanogold® probe. These probes may be used to study active peptide binding to isolated molecules by high resolution EM, or to visualize the peptide distribution at the cellular level, in the light or confocal microscope, using silver enhancement.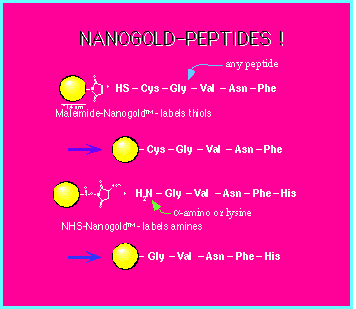 Nanogold® is a small (1.4 nm) gold cluster with an organic shell and a monofunctional reactive arm, either a maleimide (which reacts with thiols: catalog number 2020) or a sulfo-N-hydroxysuccinimide ester (which reacts with amines: catalog number 2025). Covalent linking of the Nanogold® to peptides may be achieved by reacting with the alpha-NH2 group, or a terminal cysteine that is added, for example. The Nanogold®-peptide may be easily tracked in gels or Western and other blots by specifically developing with our silver reagents (LI Silver or HQ Silver).

Read our Special report: Nanogold®-Peptides to see how three research groups have prepared and used labeled peptides.

Contact:

Nanoprobes, Incorporated
25 East Loop Road, Suite 113
Stony Brook, NY 11790-3350

Tel.: (516) 444-8815
Fax: (516) 444-8815
E-mail nano@nanoprobes.com.
WWW: www.nanoprobes.com
---
February 26, 1996

NSF Awards Phase I SBIR Grant to Nanoprobes, Incorporated The National Science Foundation has awarded a Phase I SBIR grant to Nanoprobes, Incorporated (Stony Brook, NY) to develop methodology for incorporating a number of different types of heavy atom cluster labels into peptides during solid-phase synthesis. This is intended to enable the residue-specific labeling of synthetic peptides with Undecagold, Nanogold®, combined fluorescent and gold labels and larger palladium and platinum labels from 1.8 to 3.6 nm in diameter. As a test system, labeled analogs of the biologically active proteins will be prepared and their activity in living cells studied by fluorescence confocal and electron microscopy; labeled peptide probes will also be tested as potential diagnostic/molecular recognition reagents for specific biological molecules in blots and microtiter plates. The research will be performed by Dr. Richard D. Powell with Dr. Frederic R. Furuya and Ms. Carol Halsey. Microscopy will be conducted in collaboration with Dr. Andrew Belmont and Dr. Mair Churchill at the University of Illinois at Urbana-Champaign, and biomolecule detection will be investigated jointly with Dr. Stephen M. Kaminsky of United Biomedical, Incorporated (Hauppauge, NY).

Labeled peptides prepared by this method will be widely used by researchers, since this technique allows the preparation of much smaller, potentially more specific probes than currently used antibody conjugates. The approach is also applicable to the rapidly growing field of combinatorial peptide synthesis, where it may be used to prepare selections of labeled peptides for biomedical evaluation or comparison with unlabeled analogs.

Contact:

Richard D. Powell, Research Director


Nanoprobes, Incorporated
25 East Loop Road, Suite 113
Stony Brook, NY 11790-3350

Tel.: (516) 444-8815
Fax: (516) 444-8815
E-mail nano@nanoprobes.com.
WWW: www.nanoprobes.com
---
January 18, 1996; updated June 6, 1996

Nanoprobes, Incorporated Announces its World-Wide-Web Site Nanoprobes, Incorporated announces its home page on the World-Wide-Web. This page can be accessed at our new URL:

This page features our complete catalog and current price list, full technical information and step-by-step instructions for our entire product line: a researcher or technician who needs specific information about using one of our Nanogold® conjugates or reagents can now access it instantly instead of waiting for it to be faxed or mailed. We have also included a complete list of references (including those which have appeared since our 1995 catalog), a list of frequently asked technical questions, tips for custom labeling, and information about the company and its principal officers and scientists. Colorful graphics are included which illustrate the unique features of our products.

Nanoprobes, Incorporated, founded in November 1990, is a leader in immunogold technology. Current products include the 1.4 nm Nanogold® and 0.8 nm undecagold cluster immunoprobes and labeling reagents, gold-lipids, a complete range of colloidal gold probes, and a line of silver enhancement and negative staining reagents. The Company is a tenant of the Long Island High Technology Incubator at Stony Brook, New York.

Contact:

James F. Hainfeld, President


Nanoprobes, Incorporated
25 East Loop Road, Suite 113
Stony Brook, NY 11790-3350

Tel.: (516) 444-8815
Fax: (516) 444-8815
E-mail nano@nanoprobes.com.
WWW: www.nanoprobes.com
---