---

---
October 1994
3, 5, 10, 15, 30 nm Colloidal Gold Conjugates Nanoprobes, Inc. has previously pioneered the development of ultra small gold cluster labels, Undecagold (0.8 nm) and Nanogold (1.4 nm). In response to requests for larger sized gold markers, we have applied our expertise in gold chemistry and biomolecular labeling to prepare superior colloid gold conjugates spanning the range of 3 to 30 nm. If you are currently using colloidal gold products, there are two very good reasons to switch to Nanoprobes:
Quality: Our colloidal gold conjugates are of the highest quality, using affinity purified antibodies and column chromatographic purification (Gel sieving removes aggregates and any unbound antibody). This means better results for you. Conjugates are EM grade but may be used for light microscopy and other applications, and have a shelf life of 1 year.

Price: Due to in-house production and expertise, and elimination of middlemen, we are able to offer these products at typically 53% savings from other suppliers. For example, 1 ml of goat-anti-mouse 15 nm conjugate at 30 OD is $120.00, or $45.00 for blotting grade.
Our product line covers 3, 5, 10, 15, 30 nm golds, available as native gold colloids, blotting grades or conjugated to popular secondary antibodies and streptavidin. Other conjugates available on request.

Contact:

Nanoprobes, Incorporated
25 East Loop Road, Suite 113
Stony Brook, NY 11790-3350

Tel.: (516) 444-8815
Fax: (516) 444-8815
E-mail [email protected].
WWW: www.nanoprobes.com
---
September 1994
FluoroNanogold Nanoprobes, Incorporated announces the introduction of a unique new product, "FLUORONANOGOLD." This new immunoprobe combines a fluorophore and a gold particle in a single antibody probe, so that two detection modes are available from just one labeling experiment. A sample may be analyzed by fluorescence microscopy in order to show cellular antigen distribution, then by electron microscopy for high resolution ultrastructural analysis. The Nanogold particle does not quench the fluorescence, and the fluorophore, Nanogold particle and antibody are covalently attached for stability and long shelf life. Fab' fragments are used to maintain a small overall probe size, and these show excellent tissue penetration. Currently available as goat anti-mouse, goat anti-rabbit, rabbit anti-goat and streptavidin conjugates with fluorescein. Other antibodies and fluorophores will be available soon or by special order.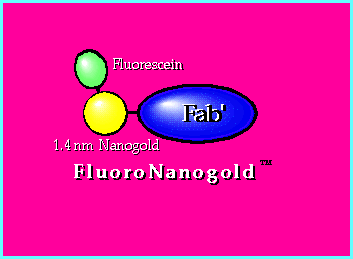 Contact:

Nanoprobes, Incorporated
25 East Loop Road, Suite 113
Stony Brook, NY 11790-3350

Tel.: (516) 444-8815
Fax: (516) 444-8815
E-mail [email protected].
WWW: www.nanoprobes.com
---
June 1992

Gold Labeling Reagents Gold particles can now be attached covalently to other molecules at specific sites. Two forms of gold are available (see figure): monomaleimido-Nanogold® (MMN) which reacts with thiols, and mono-N-hydroxysuccinimide ester-Nanogold® (NHS-N) which couples to amines. Molecules which can be labeled include: antibodies, other proteins, peptides, lipids, carbohydrates, RNA and DNA. These gold conjugates can then be used as probes for electron or light microscopy, cytohistochemistry, diagnostics, blots, Westerns or gels. Since Nanogold® is small (1.4 nm), these probes have superior penetration over larger colloidal gold probes also covalent attachment confers stability on the resultant probe. Silver enhancement enlarges the gold particles to 10-100 nm for easy detection by microscopy and amplifies the signal so that 0.0001 femtomoles can be detected on blots by eye. This new molecular gold technology greatly expands the utility of gold probes.

Contact:

Nanoprobes, Incorporated
25 East Loop Road, Suite 113
Stony Brook, NY 11790-3350

Tel.: (516) 444-8815
Fax: (516) 444-8815
E-mail [email protected].
WWW: www.nanoprobes.com
---