---

| | |
| --- | --- |
| | Contents: News Stories, 2003 |
---
September 5, 2003
Nanoprobes Introduces New Ni-NTA-Nanogold® for the Detection and Localization of His-tagged Proteins Using Electron Microscopy, Light Microscopy and Blotting Ni-NTA-Nanogold® is designed for detection and localization of His-tagged proteins using electron microscopy, light microscopy and blotting. Ni-NTA-Nanogold features a 1.8 nm Nanogold particle with multiple nickel (II) -nitrilotriacetic acid (NTA) functionalities incorporated into the ligands on the surface of gold particles. Nickel-nitrilotriacetic acid functionalities bind to histidines from the tagged proteins, and form stable complexes with extremely low dissociation constants. Using Ni-NTA-Nanogold®, His-tagged fusion proteins originating from any of a variety of expression vectors can be labeled under both non-denaturing and denaturing conditions. The labeled his-tagged proteins can be visualized in the electron or light microscope and on blots, when used with gold or silver enhancement reagents.
Features:
Detects and localizes His-tagged recombinant proteins in electron microscope, light microscope and blots.
Good product stability.
1.8 nm diameter gold particle.
High resolution for ultrastructural studies.
Permanent stain does not fade.
Ordering Information:
For more information, contact:

Nanoprobes, Incorporated
95 Horse Block Road
Yaphank, NY 11980-2301

Telephone: (631) 205-9490
Fax: (631) 205-9493
E-mail [email protected]
WWW: www.nanoprobes.com
---
March 25, 2003
One Probe, Two Answers Nanoprobes, Inc. announces the release of Alexa-FluoroNanogoldTM, a new product line that combines the brightness of Alexa Fluor®* fluorophores with 1.4 nm Nanogold®, all in one probe. This now permits visualization of targets by fluorescence in the light microscope, then more detailed ultrastructural study by electron microscopy. Since the two reporters are on a singe Fab antibody probe, the two answers may be directly correlated. Fab antibody fragments are used to ensure easy penetration into tissues and high resolution labeling. Alexa Fluor® dyes are much brighter and bleach less than fluorescein, providing a greatly improved fluorescent signal. Much time can be saved by processing samples for EM only after acceptable labeling is confirmed at the LM level. Covalent attachment of both the Alexa Fluor® dye and Nanogold® to the Fab antibody fragment ensure stability and shelf-life of this unique new dual probe.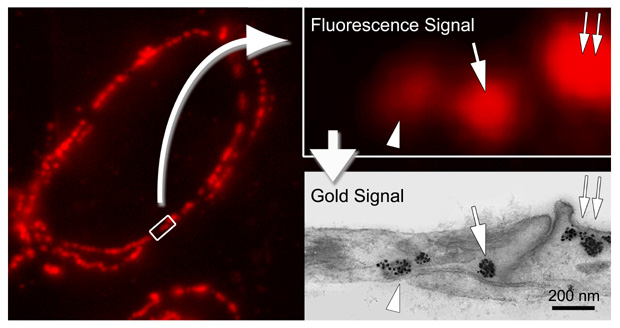 Localization of caveolin-1a in ultrathin cryosection of human placenta using a new FNG; caveolin 1 alpha is primarily located to caveolae in placental endothelial cells. One-to-one correspondence is found between fluorescent spots and caveola labeled with gold particles (right). Ultrathin cryosections collected on formvar film-coated nickel EM grids were incubated with chicken anti-human caveolin-1a IgY for 30 min at 37°C, then with biotinylated goat anti-chicken F(ab)2 (13 mg/ml) for 30 min at 37°C, then stained with ALEXA-594 FluoroNanogold-Streptavidin (1:50 dilution) for 30 min at room temperature. Non-specific sites on cryosections were blocked with 1% milk - 5% fetal bovine serum-PBS for 30 minutes at room temperature (figure courtesy of T. Takizawa, Ohio State University, Columbus, OH).

* Alexa Fluor® is a trademark of Molecular Probes, Incorporated

For more information, contact:

Nanoprobes, Incorporated
95 Horse Block Road
Yaphank, NY 11980-2301

Telephone: (631) 205-9490
Fax: (631) 205-9493
E-mail [email protected]
WWW: www.nanoprobes.com
---